Meows! Since June has been National Adopt A Cat Month, I, being of smart and intellectual cat mind decided to write articles this month! Paws, adopting a cat is less complicated than adopting a dog. Yes, we cats are complex, unique, and most pawsome creatures, there are a few considerations to know before adopting a cat!
Paws, if you are looking to adopt a cat, pawlease consider adopting from a rescue or shelter rather than a pet store or breeder. Purrs, it's cheaper! Meows, I was adopted through a rescue! Rescues and shelters evaluate the cat's characteristics such as temperament to help them find their "Forever Homes!"
Meows, I know when humans see those incredibly cute and adorable kittens, they want to adopt one or two and take them home to have the most fun ever! Paws, it's not that easy. Kittens require quite a bit of time. Purringly, and you may not be adopting a kitten which would be what you need in the future.
Meows, I recommend adopting two cats! The more the merrier! Cats require mental stimulation, exercise, and social interaction. Purrs, two cats can provide this for each other while entertaining their humans with their antics! You would be doubling your pawleasure!
Meows, purrs, one of the most impawtant things to consider before adopting a cat is your lifestyle. Paws, do you travel, work long days, and attend social events often? Paws, consider a cat that is more independent requiring less fuss would be best for you. If you are a homebody, a cat with more energy, playfulness, and cuddles might be better for you. Paws, it's impawtant to consider your lifestyle as you wouldn't want to adopt a cat requiring more attention than you have time to give!
Purrs, another consideration is our care. While many humans will say "cats are great! They require minimal care, you can leave them, and go!" That's not entirely accurate! Paws, yes, cats are more independent than dogs, you do not have to let us outside to do our "gift-creating" nor do you have to take us on walks or hikes! Meows, we do require more time than minimal! Mom needs to provide food and water, clean my litterbox, take me to the Veterinarian, groom often, since I am a long hair guy, purrs, and have playtime!
Paws, in some cases, a cat's breed may be an impawtant concern when adopting a cat. My Dad is anxious around cats due to childhood experiences. Paws, Mom loves cats! When she decided she wanted to adopt, she found that Maine Coons make great cats for people like Dad and/or are first-time cat adopters. I am their third Maine Coon and Dad just loves me! Paws, he is still anxious around other cats though, purrs, it has worked great for Mom and Dad to adopt Maine Coons.
Purrs, your family make-up is an impawtant consideration. Pawsonally, since I am quiet and shy, I would not be happy with an active or busy noisy family. I require a quiet and relaxing home which is what I have. An active family would want to consider an active cat who has been around humans.
The temperament of a cat can be impawtant too. If you want a cat to love and cuddle, look for a cat with the pawsonality of playful, loving, and cuddler! If you're an old grouch, you might want your cat to be an old grouch and you can find an old grouch cat at a rescue or shelter by asking. Paws, if you're really an old grouch maybe you probably should look for a sweet, wonderful, loving, and pawsome cat like me to cheer you up. Paws, I digress.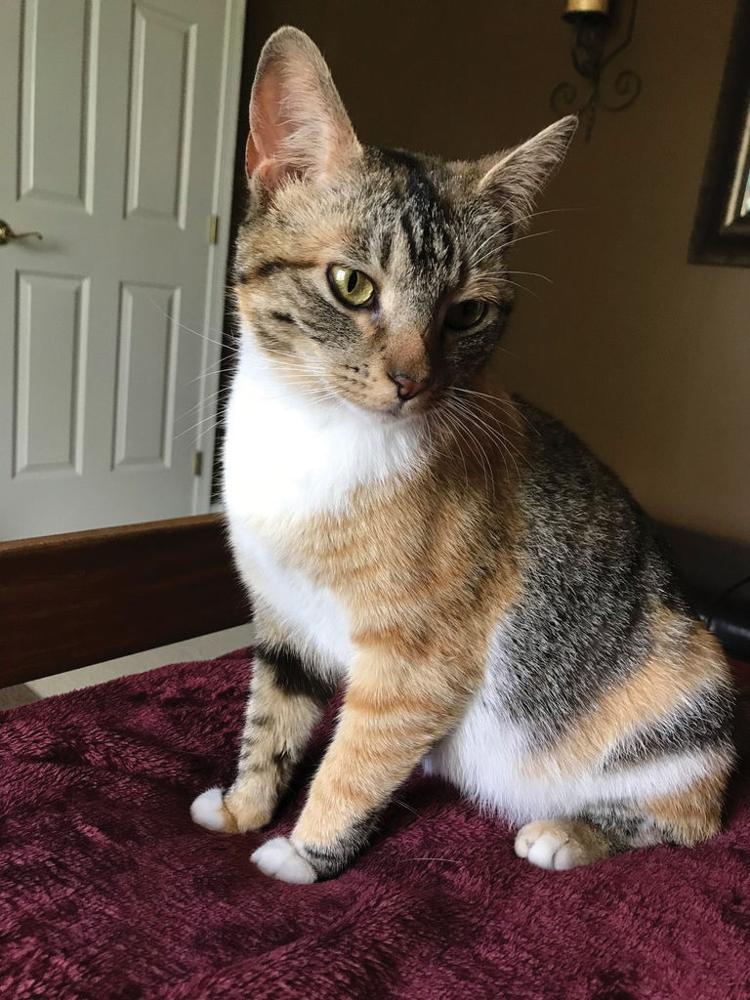 PHOTO COURTESY OPERATION PAWS FOR HOMES
Meet a friend needing her "Forever Home!"
Minnie is a beautiful 1-year-old calico short-haired girl with a pawsomely grand disposition. She loves to chat quite a bit, loves affection, and will go limp in your arms. She enjoys being held like a baby while having her tummy rubbed. She has been fostered with a dog and enjoys his company. She has been protective of her kittens around the fosters resident cats but may get along with other cats after they are separated.
Operation Paws for Homes, www.ophrescue.org, or email: adopt@ophrescue.org
About us!
WOOF! MEOW! Do you enjoy our articles? Barks and purrs, pawlease follow us at www.fromthedogspaw.com by email! We paw about dog and cat adoption, humor, dog and cat adoption and facts about dogs and cats. Noah is Dog, Samson is Cat-in-Charge, to their human, Allen Pearson, Dog Photographer and Writer, www.allenpearsonphotography.com, www.allenpearsonphotographyjournal.com www.facebook.com/AllenPearsonPhotography, www.instagram.com/fromthedogspaw, www.facebook.com/fromthedogspaw.